Since you've bought your perfect vibrator, you're obviously eager to explore. Using a vibrator to masturbate for the first time can be daunting. You're probably used to using your fingers for pleasure, so transitioning to something different (that also vibrates!) can feel like a big next step. So, we wanted to share some tips and tricks about how to masturbate with a vibrator that will make your first experience, and many more thereafter, as pleasurable as possible.
Foreplay before masturbating with sex toys
Before diving into how to masturbate with vibrators, we must discuss the art of foreplay—even when you're flying solo. This phase is about setting the mood and preparing your body for the exciting journey ahead. So, buckle up, and let's get the party started!
Set the mood
As we all know, getting in 'the mood' doesn't happen with a flick of a switch. Even though orgasms can be great stress relievers, it can be hard to experience them when you're feeling tense or haven't set aside time to get in the mood.
Self-pleasure is an important part of self-care, and masturbating with vibrators can be a wonderful experience if you set aside adequate time to make yourself feel good.
Start by dimming the lights, put on some calming music, and perhaps listen to some audio porn or watch ethical porn. This will help you relax and get the right mindset for pleasurable self-play. This is a time to treat yourself – so there's no need to rush. Close your eyes and indulge in the moment.
Take it slow
When learning how to masturbate with sex toys, you obviously want to orgasm, but try not to be overly preoccupied with this goal. First things first, allow your body the space and time to become aroused. Slowing down helps you understand your body, helps you relax, and can improve your sexual experiences in the long run.
Explore your body and take the time to discover what turns you on. Run your hands over your erogenous zones, paying attention to what feels good and heightens your sexual pleasure. This self-exploration will enhance your experience when using a vibrator for masturbation.
Choose a suitable lubricant
Once you're feeling a little frisky, we know you'll want to get right into it, but before you do so, grab your other best friend – lube! Using a suitable lubricant helps create a frictionless and comfortable experience. Apply a generous amount of lube to your sex toy and your intimate areas to enhance pleasure and reduce friction, even for external masturbation. Lube will make your vibrator feel much more natural, easier to insert, pleasurable, and fun.
Make sure you research the type of lube you need to use. For example, if you're using a silicone vibrator, you should use a water-based lube rather than a silicone-based lube. Similarly, if you want to use a condom (for extra safety and cleanliness), you shouldn't use an oil-based lube. Be sure to pay attention to the ingredients in the lube you choose – try using a lube with natural ingredients (perhaps even organic) to be as kind to your skin as possible. We recommend Pjur Aqua water-based lubricant. Not only does it hydrate dry skin, but it also offers sustained, gentle care. (Plus, it's compatible with our vibrators!)
Prepare your vibrator
Now, it's time to turn your vibrator on. As well as read the instructions and get to know the controls and features of your vibrator. If it's your first time using this vibrator, make sure to wash it in warm water with mild soap (and after you've had fun). If you're using a rechargeable vibrator, make sure it's fully charged, so you don't have any interruptions during your session. If it's a battery-operated vibrator, make sure it has newer batteries.
Steps for masturbating with vibrators
Every woman is one-of-a-kind, so it may take time to discover what gets you going when masturbating with vibrators. Pleasure techniques range from external stimulation (like clitoral stimulation) to internal exploration (finding that G-Spot!). It's all about finding what feels best for you. Pay attention to the techniques you enjoy during regular masturbation without a sex toy, like the kind of stimulation you prefer (internal or external, gentle or intense, fast or slow). This will help you figure out what you'll enjoy with a vibrator. In the meantime, here are some steps to get started with a vibrator:
1. Arouse non-genital erogenous zones
To start, gently glide your vibrator over your most sensitive erogenous areas. These can include your breasts, nipples, and inner thighs. Some people also find that the vibrations feel good on their neck, armpits, lips, stomach, inner thighs, feet, and even elbows. Keep up this teasing motion until your body craves more intimate contact. This approach helps you get to know your sex toy and prepares your whole body for playtime.
2. Orbit your vulva
Once you start feeling the need build between your legs, shift your focus to your vulva, but hold off using the vibrator directly on your more sensitive zones like the clitoris and vagina. Instead, tease yourself by gently orbiting the vibrator around your vulva, gliding it over the outer labia and around the clitoris.
Then, get ready to ramp up the pleasure by teasing your clitoris while playing with your vulva some more! Start by placing the tip of your vibrator at the bottom of your vulva and slowly move it upwards towards your clitoris. When you reach the top of your vulva, above your clitoris, smoothly glide it back down. Gently press it against your vulva, making sure the top part touches your clitoris. Position the length of the vibrator along your vulva and labia while letting the bottom rest at the lower part. And here's a pro tip: squeeze your legs together to keep the vibrator in place effortlessly for hands-free arousal.
Typically, we rush into touching the clitoris and vagina and ignore the external vulva, which is brimming with nerves and receptive to touch too. New to external vulva play? Legato is a game-changer for exploring your vulva, especially if internal stimulation isn't your thing. This flexible labia and vulva vibrator sends 360° stimulation to your labia, vulva, and clitoris without internal penetration, though it is designed to have a gap in the middle to accommodate for that if you want. Legato increases blood flow to the external vulva, which promotes natural lubrication and helps to get fully aroused for penetration if you choose to indulge.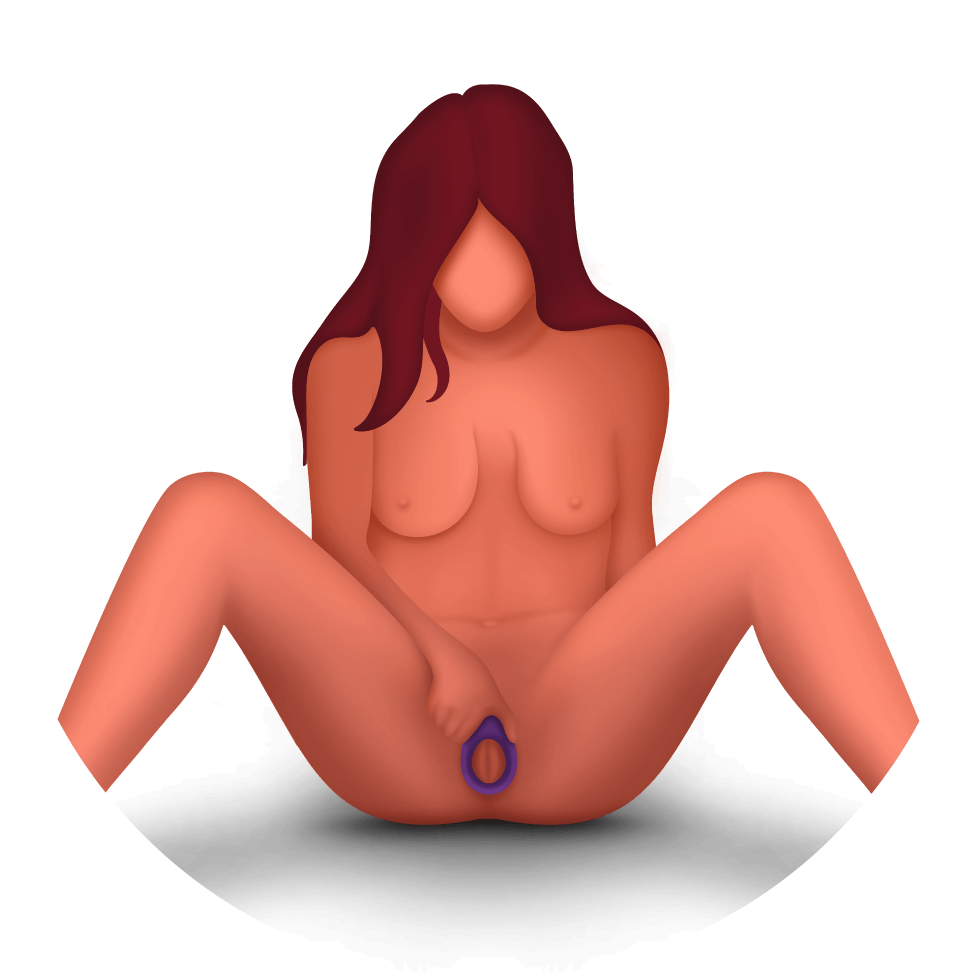 Use Legato to stimulate your external erogenous zones
3. Play with your clitoris
For most women, the clitoris is their most sensitive spot and most reliable way by which they reach orgasm. In fact, for many women, clitoral stimulation is the only way they can orgasm. If that's you, you can use your vibrator to masturbate just by stimulating your clitoris and vulva without penetration. Regardless, the clitoris is a large part of female arousal, so it's recommended to stimulate this bundle of nerves.
Start by moving the tip of your vibrator over your clitoris and applying direct pressure. Experiment with different techniques to find what feels most enjoyable and pleasurable for you. You can try pushing the vibrator into a specific side of your clitoris, rubbing it back and forth, circling your clitoris slowly or rapidly, or softly teasing yourself with minimal pressure. You can use vibrators like Crescendo 2, Poco, or Legato to enhance this experience. Crescendo 2 even has two raised wings dedicated to clitoral stimulation.
However, some women may find direct stimulation too intense or even painful. If that sounds like you, instead of using your vibrator directly on your clitoris, try it on the clitoral hood - the small flap of skin covers your clitoris. The clitoral hood can act as a buffer, making the vibrations less intense but still enjoyable. You can even try using your vibrator over your underwear for added comfort. Wearing softer underwear like satin or silk can create a smoother slide between your body, the underwear, and the vibrator. Putting a little bit of lubricant on the bottom of your underwear can also help reduce friction.
Crescendo 2 position 12: Vibe Tease
4. Stimulate your vagina
If you're in the mood for vaginal penetration, now you should be ready to explore that. Find a comfortable position before you insert your vibrator inside you. Some women prefer lying on their back with their legs spread, while others find lying on their front more comfortable. If you have a bendable vibrator, you can sit on it and ride it, going hands-free. The choice is yours.
Take your vibrator and apply lubricant to it, then slowly begin to insert it into your vagina. Start by gradually inserting the vibrator and try out different vibration patterns. Start with a slow pattern until you feel comfortable, like your vaginal walls have adjusted. Then, have fun exploring different intensity levels alongside vibration patterns and different motions, such as sliding the vibrating in and out, or keeping it deep inside you and circling it. Again, there is no right or wrong, so just have fun!
Crescendo 2 position 2: Solo Rodeo
5. Tap into blended pleasure
While masturbating doesn't have to have any goal, intentionally stimulating multiple areas like the G-spot, A-spot, C-spot and clitoris can elevate the sensations and potentially lead to more intense, blended orgasms.
There are several ways to arouse multiple erogenous zones at the same time. You can bring in your fingers for some added stimulation. While one hand handles the vibrator stimulating your G-spot or A-spot, your other hand can play with your clitoris, or vice versa!
If the two-handed tango feels tricky to maneuver, you might want to consider a bendable vibrator. If you have a dual massager or a bendable vibrator like Crescendo 2 and Poco, most of the work is already done for you! Crescendo 2 is designed to be bent into multiple shapes and arouse multiple areas at the same time, like the G-spot and clitoris. When you have found the perfect combination, ramp up the intensity setting on your vibrator and let yourself be enveloped in its delightful vibrations.
6. Involve your anus
Trying anal stimulation can be a fun and pleasurable experience for many women. If you're thinking about using a vibrator for this, start by using the vibrator to stimulate your perineum, which is the sensitive patch of skin between your anus and your vagina. If you already know you enjoy anal penetration or are curious to try it out, make sure you proceed slowly and gradually.
Starting with anal training can be helpful, and using plenty of lube is essential, as the anus doesn't self-lubricate in the same way as the vagina.
Molto is an excellent option for veterans of anal play and those just exploring anal play. Designed to be ultra-slim and ultra-flexible, Molto can deliver targeted anal pleasure with its powerful motor and variety of intensity levels, and customizable vibration patterns.
Once you've applied a generous amount of lubricant to your anus and a vibrator like Molto or something else, gently position it at the entrance of your anus and carefully press it into your anus. Allow your body time to adjust and gradually insert it deeper if you want. Some women only prefer pressure and sensation at the entrance of the anus, and that's fine too!
Experiment with different settings, pressure, and angle
To have the best time and explore different sensations, here are some vibrator masturbation instructions:
Start with the lowest vibration and gradually increase the intensity. Take it slow and try different speeds and pressures.
Experiment with rhythmic patterns and pulse modes to find what gets you going. Get creative and try different patterns for an exciting experience. Many Crescendo 2 and Poco users have found more pleasure in using the MysteryVibe App. This app lets you create custom vibration patterns, offering new orgasmic experiences every time. With the app or the MysteryVibe remote control, you can control and program all the motors individually, designing and saving vibes that perfectly match your preferences.
Remember, it's not just about the intensity. The pressure and angle at which you use the vibrator against your body also matter. Explore different sensations by squeezing or pressing the vibrator against your body, lying on top of it, or using it to tease your genitals. For more ideas on how to masturbate with a vibrator, check out our Play page.
Everyone is different, so don't be afraid to experiment and find what works best for you. Enjoy the journey of self-discovery and pleasure!
Try different techniques while masturbating with a sex toy
Once you and your vibrator have spent some quality time together, try exploring different techniques. For instance, some women enjoy flexing their pelvic floor muscles during masturbation, as these forced contractions can enhance orgasmic sensations.
Try using a mirror to watch yourself masturbating with a vibrator. For some people, visual feedback can be very arousing. Watching yourself can heighten the erotic sensations and give you a fresh perspective on self-indulgence.
Another technique to explore is edging, which is where you bring yourself to the edge of climax and then back off just before reaching it. This method, also known as orgasm control, involves repeatedly approaching and retreating from the pinnacle of pleasure, which can intensify the eventual release.
Takeaway
Learning how to masturbate with your vibrator can be a journey of self-discovery and empowerment. It's all about finding what feels good and thoroughly enjoying the pleasure it brings. Remember to experiment and see what works best for you. Once you've experienced the fantastic sensations and awakened your sexual desires, you'll understand why there's so much excitement around using a vibrator. So, embrace self-love and eagerly look forward to your subsequent intimate encounter!